In the midst of a slew of cancelled board game conventions due to the pandemic, I have some great news to share! Like its sister show in Osaka previously, Tokyo Game Market is still happening! Irresponsible, you say? Not at all. This event is the 20th anniversary of the original Tokyo Game Market and an event worth celebrating, however possible. They've shifted the celebration online! And that's not even the best news I have to share. In the shift online, a dedicated webshop has popped up to serve as the marketplace while various accompanying events will take place via Discord and other online media, which means you can take part in Tokyo Game Market Spring 2020 from wherever you may be.
Along with the dedicated webshop, designers and publishers are partnering with other established web platforms and local shops across the country to distribute their work ahead of time. This kind of distribution typically occurs after Game Market, but has shifted timelines in an attempt to support the shops that are facing financial difficulty just like so many other sectors. In turn, the designers are able to see the fruits of the labor and manufacturing, which went into full tilt before the country went on lockdown. For me, it's lovely to see the spirit of Game Market continued in the inventive approach to holding the convention.

I'll get into my picks for the show in a bit, but first I want to share with you some of the places to get the goods if you're interested. As I've shared previously, the best way to get news on titles are via the GameMarket.jp or Twitter; and the normal indie distribution channels of Bodoge.Hoobby.net and BOOTH.pm are still distributing some of the new work. And as usual, you'll need to use a forwarding service like Tenso or Big In Japan to get your games if you live out of the country. The event specific webshop platform is run via Arclight, which runs a few board game cafes/shops and a publishing venture that does many localizations of Western titles. Interestingly, the shop is receiving the games for consignment now, but won't sell them until April 25th when the show would actually open. I expect a mad dash for some titles just like you might expect at the show itself. The difference here, of course, is that rather than traveling to the show, waiting in line to go in, then exploring the floor yourself, you can do everything from your screen of choice and rely on the F5 button. Now, on to the picks!
Abyssal Line by analog lunchbox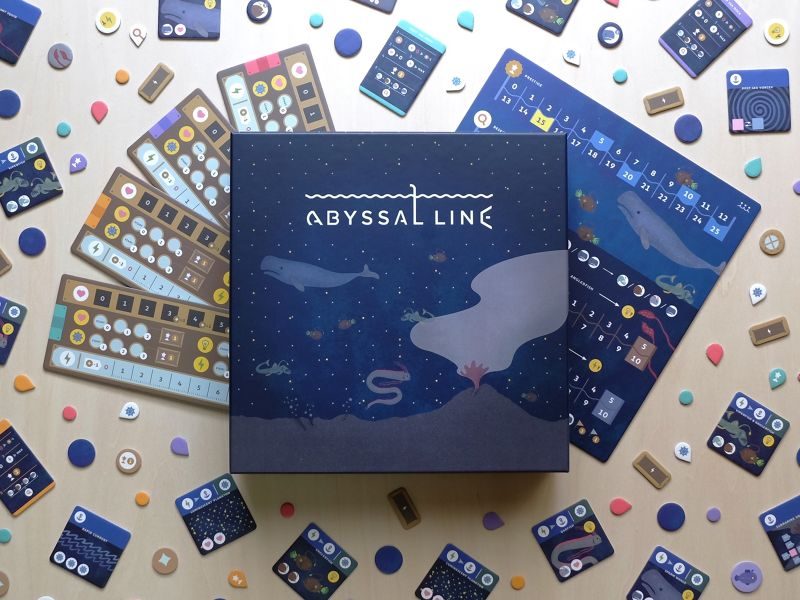 We don't have many details on Abyssal Line beyond the story the players inhabit. As oceanographers, you seek to learn and publish research about deep sea creatures while also providing a thrilling vacation for tourists aboard your ship. I'm drawn by the pedigree of the designer, Masaki Suga, who also designed the recent US arrivals, Airship City and Passtally. I expect novel ways of developing player interaction within a semi-familiar Euro-y framework of resource management…oh, and that crisp art from Saori Shibata.
ANTIQUE OR GHOST? by POLAR POND GAMES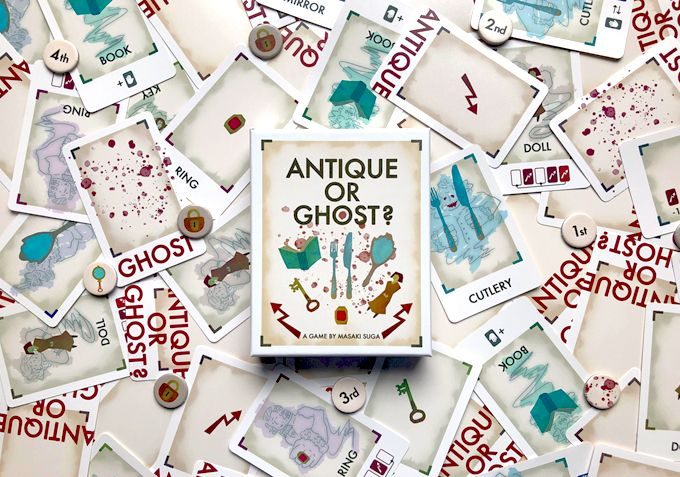 This one looks a bit like Isle of Skye: the card game as players collect cards for their tableaus from other players' markets. The cool thing here is that as the seller, you can decide who gets to keep the card and who conversely gets to use the card's ability. It's a multi-layered I-split-you-choose decision that fits well within the story of the game. Players are ghosts trying to collect antiques of different values, but your ghost has some insider knowledge of a single item that will be worthless at game end. Otherwise, the central market shows the relative values of all the items, which might get rearranged or locked down from a card's ability. It's a game that seems ripe for mind games and misdirection. I wouldn't expect that from Masaki Suga (yes, him again), but he branched out to form POLAR POND GAMES as a way to try out ideas on his own apart from analog lunchbox.
Crossroads by Manifest Destiny
Manifest Destiny is a publisher run by a designer who goes by Kuro and releases at least four of his games a year. They're often laser-focused on a design concept and keep to a fairly minimal ruleset. Crossroads is no different. It's a clean hand management game that plays with the legendary concepts of playing guitar against the devil at the crossroads and death at the age of 27. Over the course of play, you're trying to gather skills in front of you that will score together at the end of the game. The end of the game occurs when the deck runs out. If you still have cards in your hand, each one is worth negative points. So how do the crossroads and 27 show up? Well, instead of playing a card, you can choose to go to the crossroads and compete for a card in another player's tableau, but this move comes at a price. To join the 27 club, you need to have a value of cards in your hand that add to 27. If so, you're immediately out of the game. At the end of the game, these cards count for you along with the tableau you had built prior to your untimely demise.
Goods Maker by Studio GG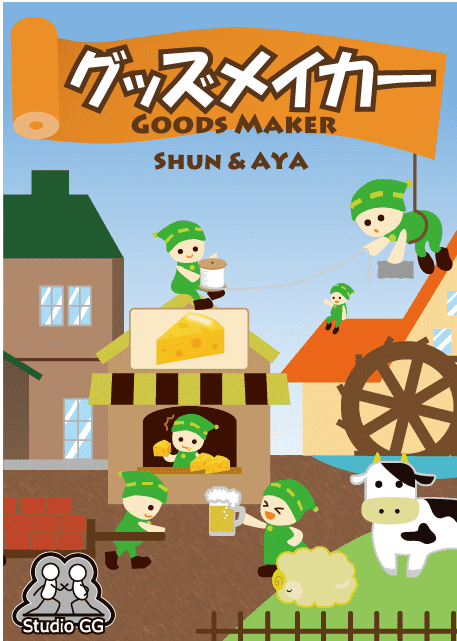 This is one of my favorite Japanese publishers. They're behind titles like Little Town Builders, King of Frontier, which came to the West under new titles and art. (Definitely go look up the original art. It's charming!) Goods Maker is a straightforward card game version of a resource management victory point race that the designer claims can be learned by experienced gamers simply by reading the card icons. That is a feat! The gameplay is indeed simple. On your turn, you can either produce goods or trade goods. When you produce, you pay a cost and receive your goods. When you trade, you exchange goods of equal value from your hand with those in the market. Eventually, you'll be able to construct buildings that act as engine builders. Once you've built 10 points worth of buildings, you've won. Little Town Builders and King of Frontier were both interesting twists on classic mechanisms. Goods Maker looks to continue that legacy.
Alluvium by Fudacoma Studio
Roll and writes have been a giant wave of a trend in board games for the past couple years, yet I'm still looking for more that use a shared board mechanism like Let's Make a Bus Route did a few years ago. I love the interactivity and tension a shared play area brings to the table. The only game to come close has been Natsumemo, a game released last year that centers on scheduling summer activities with your friends. Fudacoma Studio, from whom I've never played a game, is filling that void with Alluvium. Players each have ownership of a sheet that gets passed clockwise around the table between each flip of the card. The cool thing going on here is that each player has their own colored pencil to mark the sheet with, so you can track who is making which shape. The goal of the game is to have the largest contiguous rectangle of land at the end of the game. Whoever provided the most help in filling that area gets some bonus points for their aid. So there becomes an interesting decision: do I toss that shape out on the border of the sheet where it serves no good? Or do I contribute to the growing landmass hoping the shape of the overall rectangle includes enough of my spaces to give me some points? The presentation of the game is gorgeous and I can't wait to play with family and friends.
Ninja Catfoot and the Covert Action by Oink Games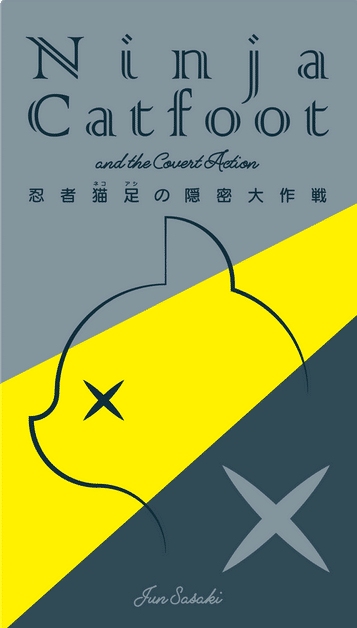 There's a cool backstory here that I want to share before getting to the game itself. This Tokyo Game Market marks the 10th anniversary of Oink Games. Jun Sasaki, the founder, designed this game and didn't think it fit well within the typical Oink lineup, so he was going to have his own single-table booth just like his first show. Now that the convention has been cancelled, Jun decided to use the game as a way to help shops around the country. Ninja Catfoot will not be sold in the new Oink Games online shop launched April 23rd, but is only available through the list of shops found here. Okay, so what is Ninja Catfoot? It's a marriage of a digital web-based app that takes advantage of your phone's gyrometer (similar to JS Joust) as you strap it to your wrist and go hunting for treasure on the table. If you move too fast, you're penalized. When I saw it, I wondered how no one had done this before. It's so simple! Brilliantly simple. It's also a sure-fired way to get people from checking their phone while you play…
CHRONO COLLECTION by luck movies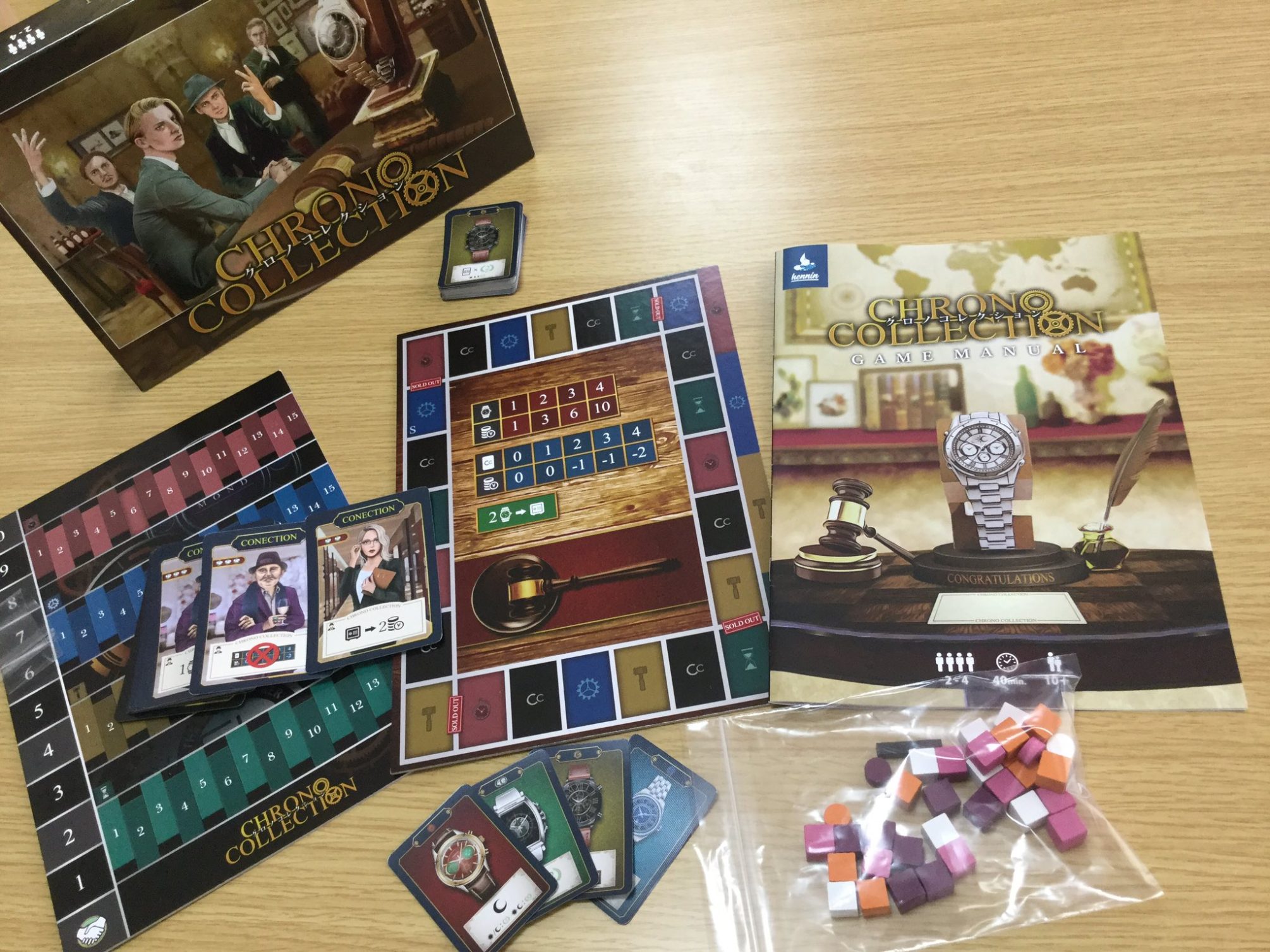 Here's another I admit to not knowing too much about, but the premise is enough to pique my interest. Players are watch collectors trying to get their favorite watches in a simultaneous bidding war. The market adjusts to the outcomes of the auctions. Sounds like a game of chaotic blasts of shouting followed by intense reassessment of your current situation. Though they've been publishing for a while, this is a studio I haven't played anything from in the past. In it's wildness, I anticipate this game being my first.
RoboTrick by Game Gallery Works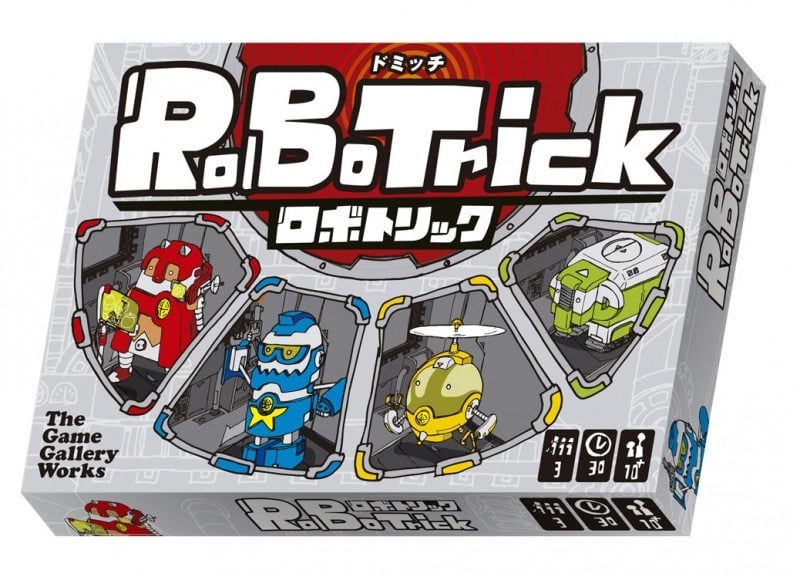 I don't think I'm the only one who is seeing a rise in trick-taking games hitting our shores, and I think it's the signal of the next trend in board gaming. Japan, however, has been a hotbed of trick-taking innovation for years. Long before The Crew, they had a rad cooperative trick taker called Familar's Trouble by one of my favorite publishers, Ayatsurare Ningyoukan. RoboTrick is another game that pushes the boundaries of what a trick-taker can do. In this case, the game introduces an AI player that the real players cannot let win a trick. At the same time, you're trying not to win too many tricks. Over three and you begin taking negative points. I'm a big fan of trick taking games. They are affordable, often fit in your pocket, and the good ones provide a mix of interaction and deduction that I love. RoboTrick is one I'm excited to explore.
Rand has been playing board games since childhood and discovered the world of modern euros while living abroad as a teenager. He believe games reflect the culture that creates them, which underscores the importance of inclusivity and conversation in the hobby. Rand lives in Boston with his wife and adorable EV, and may be found cycling the suburbs on the weekends.