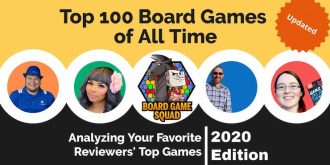 Is your shelf of shame ever growing? With thousands of new board games being released every year, it's harder than ever to figure out which games to buy, which to play, and which to avoid. There's simply too many games! Overwhelmed with choices, many of you may have turned to popular board game reviewers such as No Pun Included and their comedic stylings or Tom Vasel and his motley crew at The Dice Tower. But reviews have limitations and only help so much with the decision process. They don't rank games, compare them to other potential candidates, or account for bias à la cult of the new. It's no wonder that "top board game lists" have risen in popularity over the years among reviewers and content creators. They are helpful and simultaneously entertaining.
Although I love a top game list as much as the next gamer, I understand that they only represent an individual's personal game tastes. I wanted to see what they may look like in aggregate. So, I compiled the lists from 39 of my favorite board game reviewers and updated things for 2020—greatly improving the methodology, fixing some data issues, and combining them to see which games topped the charts.
Which games do reviewers think are the best? Let's explore the board game rankings…
Note: The following buttons allow you to filter the list by favorite board game reviewers, media networks, player counts, complexity, and game length.