Quick FYI: Paul and Adam will be attending PAX unplugged this year and we want to see you! If you are not going to be there then let us know what we should be looking for while on the convention floor. Is there a game you want us to try out for you? Is there a hidden gem we might miss out on? Do you have a specific question for a designer or publisher?
Email us and let us know so we can find out for you: podcast@boardgamesquad.com.
More Episodes/Subscribe: https://boardgamesquad.com/podcast/
Blog: https://boardgamesquad.com/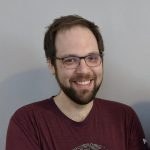 Paul Shapiro is Founder and Editor of Board Game Squad. He enjoys all types of games and experiences, but has a particular penchant for medium to heavy eurogames.