Let's admit it. The board game hobby is an expensive one.
The average MSRP of a game on BoardGameGeek's Top 100 is around $69.93 (approximates made for Out of Print and Kickstarter exclusive games).
When you have hundreds or even thousands of games in your collection as some of us do, it can add up to a pretty penny.
What's a gamer to do!? How can we satiate our hunger to add more and more games to our KALLAX shelves but not break the bank?
Here are our tips to expand your collection and save money on board game.
Buy Used
One of the best ways save money on board games is by resisting the urge to buy new. Having your games wrapped in cellophane doesn't make them any more fun. I promise.
Board gamers tend to take good care of their games, so buying used doesn't always mean worn and tattered copy. Many times I've purchased a game only to discover the cards have been sleeved or even with the boards unpunched. It's also not uncommon to see people selling games NIS, meaning "New In Shrink". So, yes completely the same as you would buy in the store.
There are some great places to buy used games online. Let's explore some of my favorites:
BoardGameGeek Auctions
Among all of these methods, buying used games via BGG (BoardGameGeek) auctions is my favorites. I've gotten some of the best deals this way.
But what are BGG auctions and how do they work exactly?
People essentially make lists of games they'd like to auction off on BoardGameGeek. The seller usually sets a starting bid and a buy it now price. The auction ends at a specified time and date.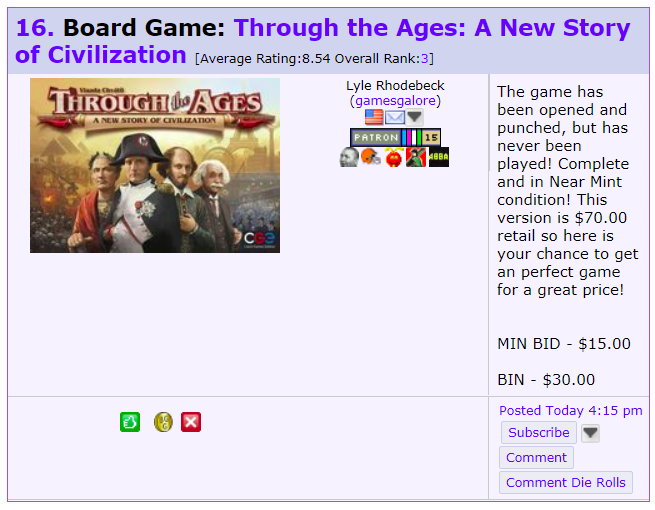 It's fairly informal process as far as auctions go. To purchase, simply comment with your bid. If you win the auction, you have to arrange contact with the seller.
In order to save money on shipping, it is advisable to look for auctions that permit local pick-up in your area.
But how do you go about finding BGG auctions?
It has historically been an arduous process, but there are now a couple of excellent tools that have helped simplify it:
The BGG Auction Matching Tool (bgg.activityclub.org)
The Official BoardGameGeek Active Auction Search
The BGG Auction Matching Tool searches the large MetaList for GeekList Auctions. It pulls data from your BoardGameGeek account finding matches for games on your Want in Trade, Wishlist, Want to Buy lists. This is great way for easily scouring for select games you might be in the market for. Since, the output includes a location column, I typically scan for local auctions.
The Official BoardGameGeek Active Auction Search is a way to search for individual games that are available via BGG auction. It's a little bit more manual than the previous tool, but the advantage here is that it isn't limited to the Metalist. It's not unreasonable to assume that people forgest to include their auction on the metalist.
Tip: Whenever, you attend board game convention, look to see if their an auction for that specific event. Again, it's another way to save on shipping and have a larger catalog to choose from being your typical local market.
Again, it's another way to save on shipping and have a larger catalog to choose from being your typical local market.
Reddit
Reddit has a really active community of board gamers and it's a great place to once again, score some great board game deals.
Every month /r/BoardGames has its Monthly Bazaar.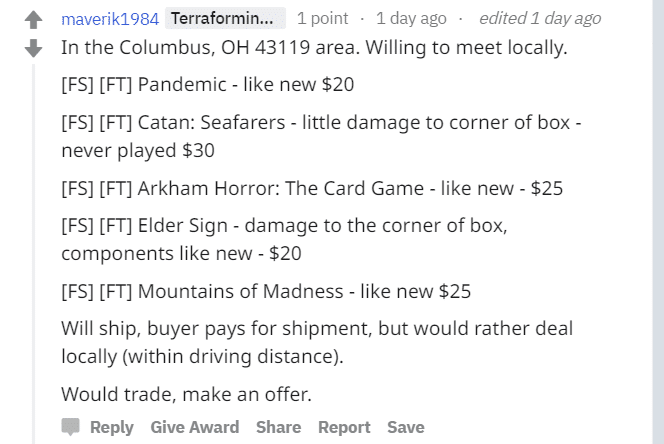 Again, it's pretty simple to use. People specify their location, what games they have to offer and the corresponding prices, game condition, and if they are trying to sell or trade the game. You simply comment on their post or send a private message to the user to make a deal. Try to avoid paying shipping if possible.
There is an entire subreddit, /r/BoardGameExchange, dedicated to facilitation board game sales and trades. Users create their own posts when they offering up their games. Much like the Monthly Bazaar, comment or private message the redditor to make a deal.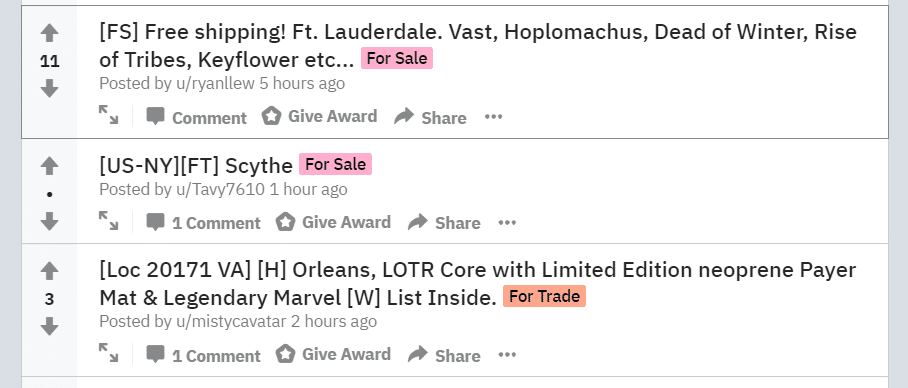 If you use the Reddit app, you can set-up notifications for when people post new games by clicking the bell on the corner of the subreddit.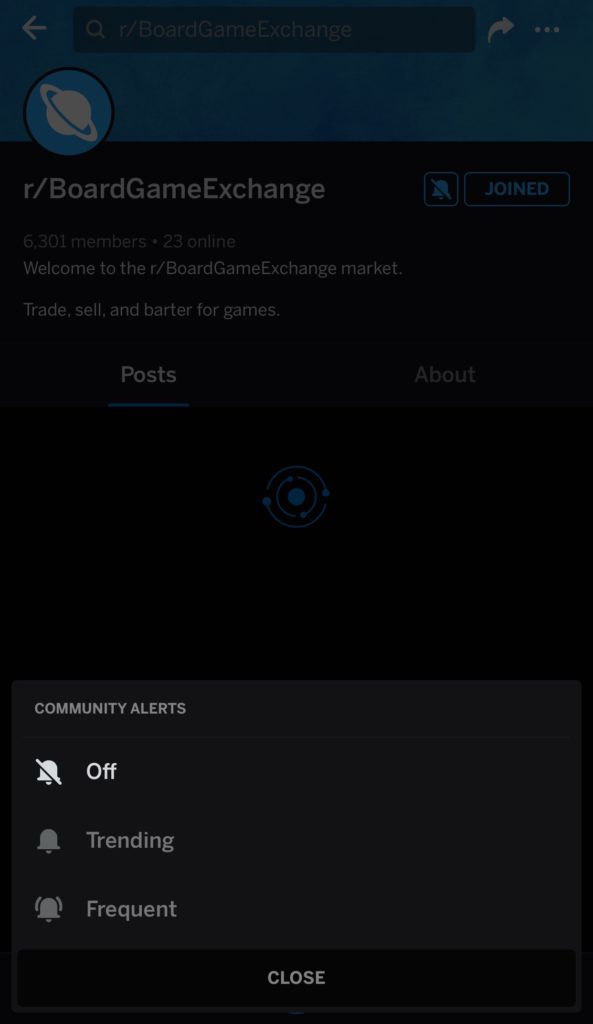 If you don't use the Reddit app, you can set-up a free IFTTT applet to notify you via email whenever a new game is listed on /r/BoardGameExchange.
For instance, you may use this IFTTT applet:
Lastly, depending on where you live, there maybe a location specific board game subreddit. I'm always finding great deals on /r/bostonboardgames personally. If you don't know if such a subreddit exists where you live, I recommend doing a quick reddit search for "board games + location] and see what comes up under "communities and users".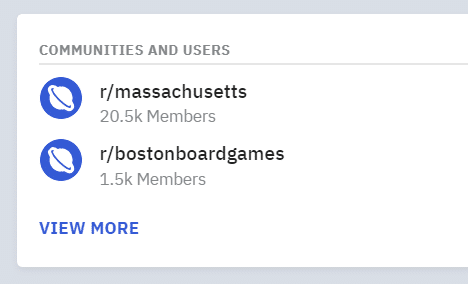 Facebook
As with the Reddit communities mentioned above, Facebook is a vibrant place for board gamers and an excellent place to buy used games.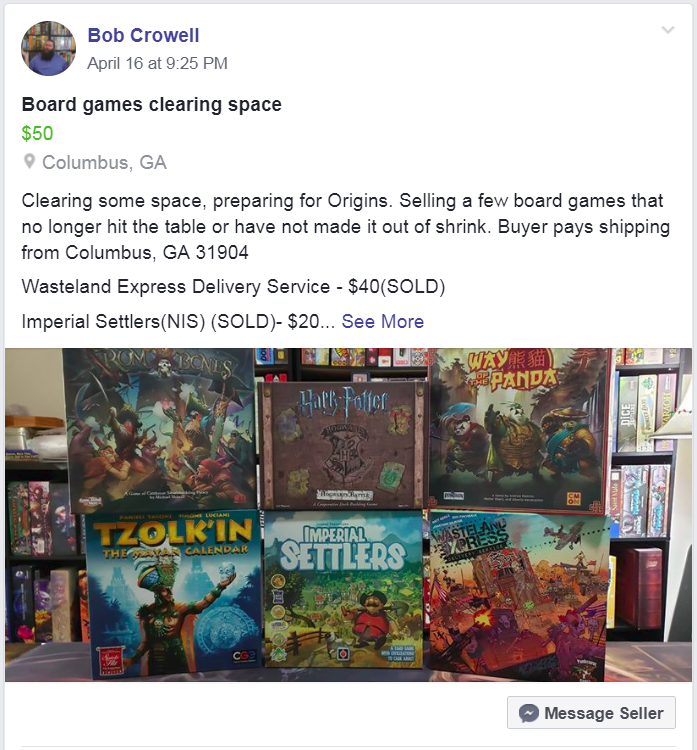 There are several Facebook groups focusing specifically on board game trading and selling, with Board Game Revolution's Board Game Exchange being the current largest.
List of Facebook groups for buying used board games:
Board Game Revolution's Board Game Exchange
THE BOARDGAME GROUP Buy, Trade, and Sell
Buy, Sell, and Trade Board Games!
If you're in the UK, check out:
Board Game Trading and Chat UK
Board Games & Roleplaying Games Buy & Sell UK & EU ONLY!
Make sure to read the Facebook group's rules. They're usually found within the group's description. But generally speaking, it's easy to buy games from one of them. Comment on a post or send a message to the seller via Facebook Messenger in order to initiate a transaction.
As with Reddit, there are also local board game sale and trad groups. Just search Facebook to see what is available in your area.
Craigslist
Craigslist and other local classified websites are a good place to find people selling used board games in your area. Sure, you'll likely find your fair share of people selling Monopoly and Trival Pursuit, but I've also found plenty of modern strategy board games burred behind the cruft.
Head to Craigslist and select the city nearest you and do a search in "For Sale".
I've had the best success using "board game" as a search term. Using the plural was leaving some out. If you want to exclude certain things from coming up, you can leverage the exclusion operator. For example, "board game -monopoly".
If you live in a major metropolitan area, the more desirable games will go fairly quickly. So, it's best to stay on top of what's being sold on Craigslist. Craigslist alerts are available directly on the Craigslist website when you click "Save Search":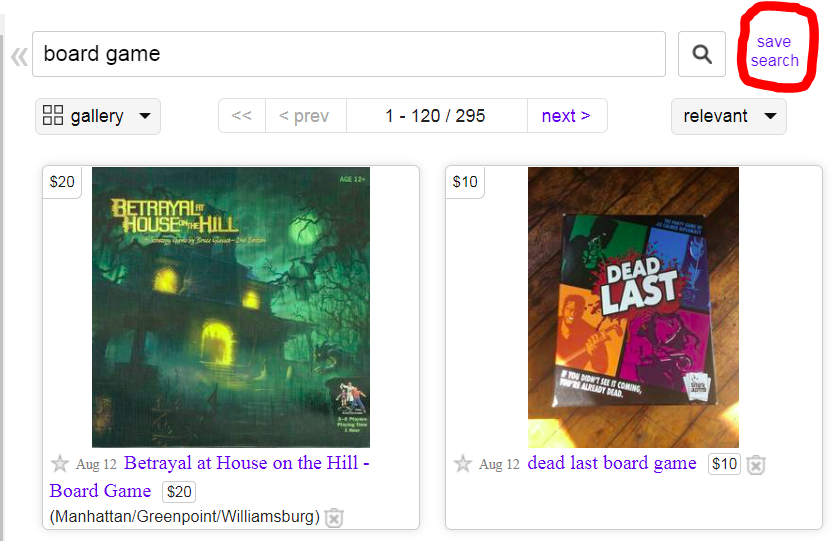 See the Craiglist FAQ on alerts if you have additional questions.
BoardGameGeek Marketplace
BoardGameGeek itself offers a venue for buying and selling used games, the BoardGameGeek Marketplace. Simply search for games you'd like to purchase and add them to your shopping cart to begin the purchase process.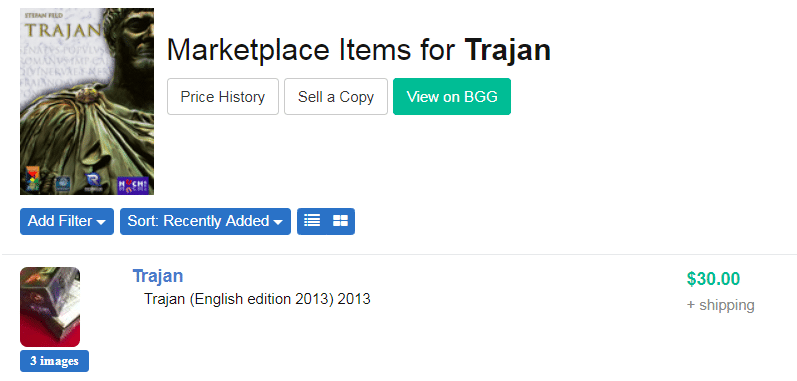 BGG Marketplace Subscriptions
You are an active BoardGameGeek user and check your subscriptions frequently (or have supported them at the $25 level and have personal RSS enabled for your account), then you can subscribe to specific games you are interested in buying.
Go to the game you're looking to buy and click the subscribe button: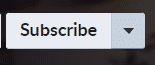 Then, click the down arrow on the side of the button and choose "Edit Subscription":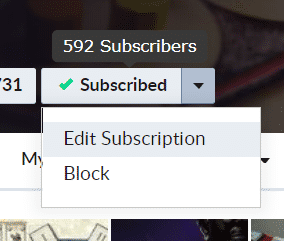 Select "No" for everything but "Product for Sale" if you'd like to be notified when it goes for sale in the marketplace.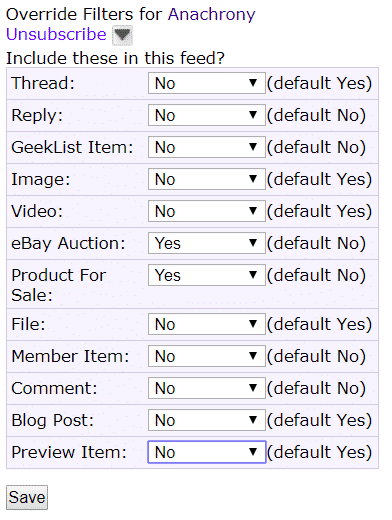 You may also want to put "Yes" for GeekList Item to see if it pops-up in an Auction, but that may result in too many notifications depending on the game.
Click "Save".
Thrift Stores
The next time you head into a thrift store, check and see if they have any board games. I have not personally had any success finding anything more desirable than an old copy of Sorry!, but social media is riddled with examples of people finding eurogames at their local Goodwill and Salvation Army.
As /u/bookchaser points out, thrift shop finds are prone to missing and damaged components. You're taking a (hopefully inexpensive) risk by purchasing used games in this manner.
Tip: It seems that people find good games in host cities following board game conventions.
General Tip for Buying Used Board Games:
When buying used board games, it's usually acceptable to negotiate. I often get the original price reduce by at least $5 or at least 20% for more expensive games. There's no shame in asking.
Compare Prices
If you're not going to buy your games used, you should in the very least shop around for the best deal.
The OFLGSs tend to have best prices, usually better than Amazon, Walmart, or eBay. Although, if you have Amazon Prime, do try and factor in shipping costs within your calculations.
Recommended (not an exhaustive) list of OFLGSs for the United States:
You may leverage BoardGamePrices.com to help you with the price comparison process. The prices and availability aren't always the most accurate, but it can help you get a sense of things.
Another good price comparison engine for board games that sometimes surfaces different results is TableTopPrices.com (it also supports international). If you're not seeing something available on BoardGamePrices.com, it's worth checking this one out.
Other International Price Comparison Engines:
Buy Ding and Dents
Many FLGS and OFLGSs will set what are called "ding and dents".
These are board games sold at a reduce price with slight cosmetic damage, but with components that are intact and 100% playable.
Maybe the box will have a slightly dented corner, enough that if you received it new that you'd complain, but not enough so that if you bought it at a discount you'd be upset.
If you're okay with the damage, they're a good way to get a deal.
Get Deal Alerts
BoardGameGeek Hot Deals RSS
BoardGameGeek has a whole forum section dedicated to board game deals and sales, Hot Deals, which can be monitored via their RSS feed.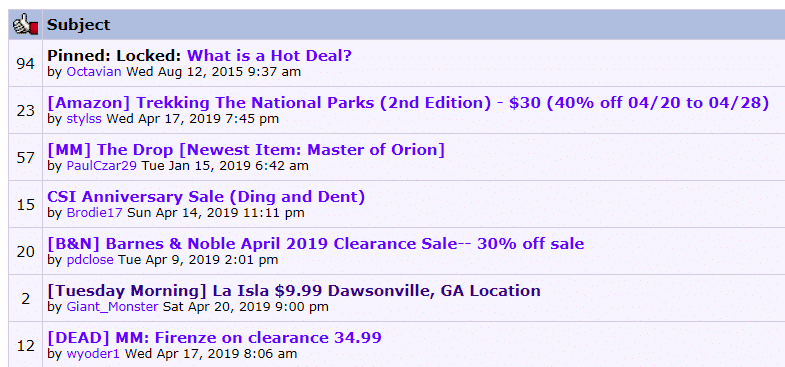 If you're not familiar with RSS and don't have already use an RSS reader, you can again leverage IFTTT to send you emails whenever a new deal is posted to BGG.
Feel free to use my IFTTT applet for yourself:
If you're in Europe, there is a separate Hot Deals Forum with it's own RSS feed.
/r/boardgamedeals
There is an entire community on Reddit dedicated to board game deals, /r/boardgamedeals.
A lot of the time it's a bot posting items from the BoardGameGeek hot deals forum, but there are also unique deals to be found on the subreddit.
As we did with /r/BoardGameExchange (see above), we can set-up the Reddit mobile app to send us push notifications on our mobile devices, or here is my IFTTT recipe to receive email notifications:
CamelCamelCamel for Amazon
CamelCamelCamel is great website that can be used for checking and tracking price histories on Amazon.
It will show you the current price as well as the lowest, average, and highest price so you can get a sense of whether you should purchase now or wait for it to come down a bit. Prices on Amazon do flucuate a lot after all.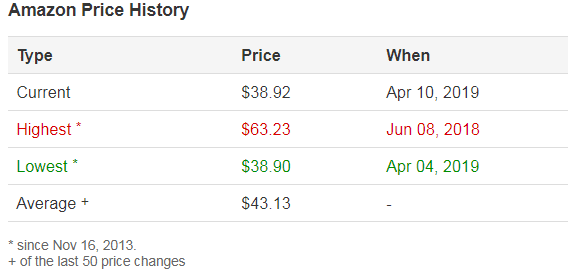 It also makes a nice little trended graph, so you can see how it has fluctuated over time.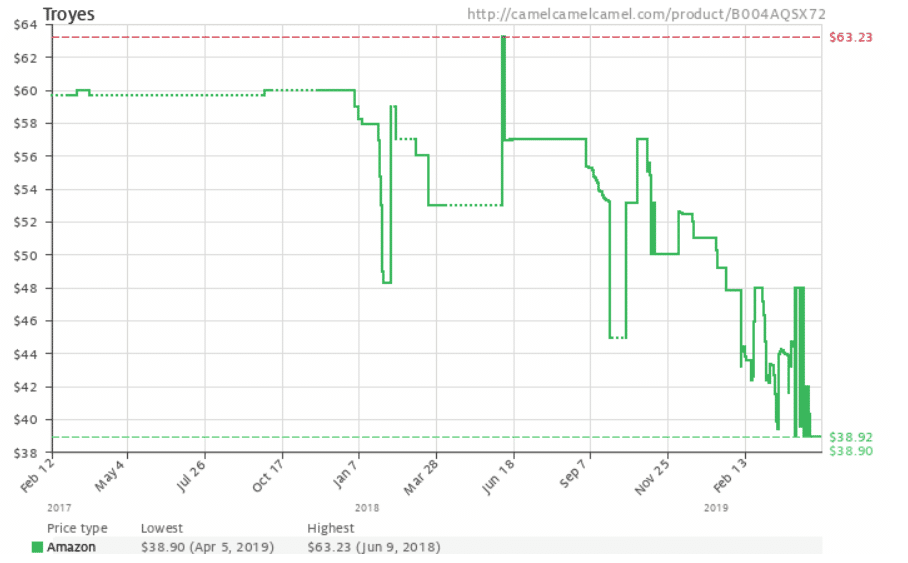 Now, this is great, but it's hardly the best feature that CamelCamelCamel has to offer. If you sign-up for an account, you can set CCC to send you an email alert if a board game drops below a certain threshold on Amazon.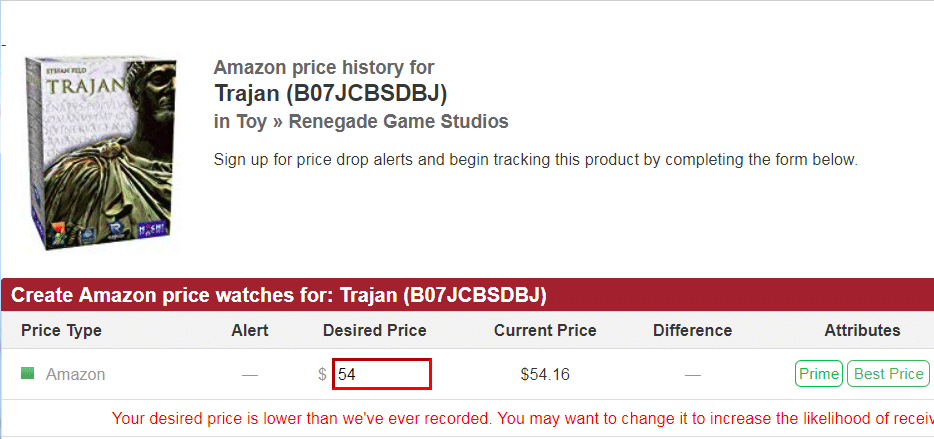 I usually either set this to it's lowest historical price, or less than the average price.
Board Game Price Notifier
A newer, similar service similar to CamelCamelCamel is BoardGamePriceNotifier.com.
It has a lot more features like tracking across the OFLGSs and syncing with your BoardGameGeek Wishlist.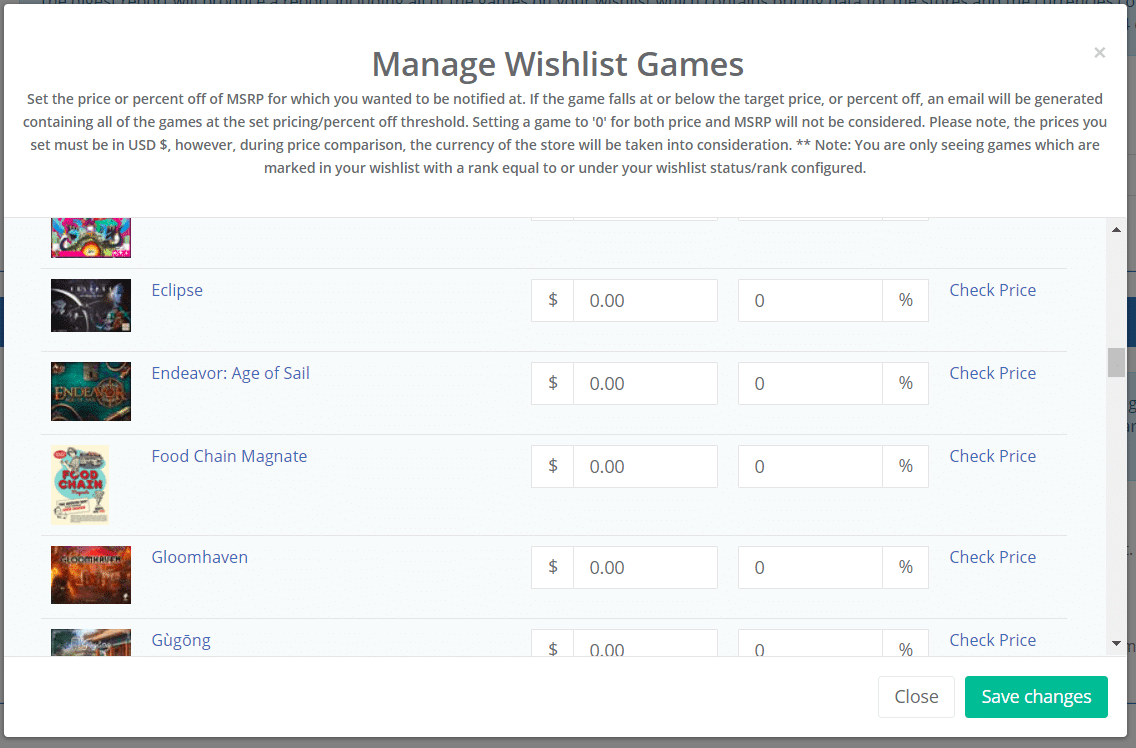 Although, it is more feature rich than CamelCamelCamel, it doesn't seem to factor in shipping prices and doesn't quite display the Amazon data as well as CamelCamelCamel. If you're a big Amazon shopper, I recommend using both.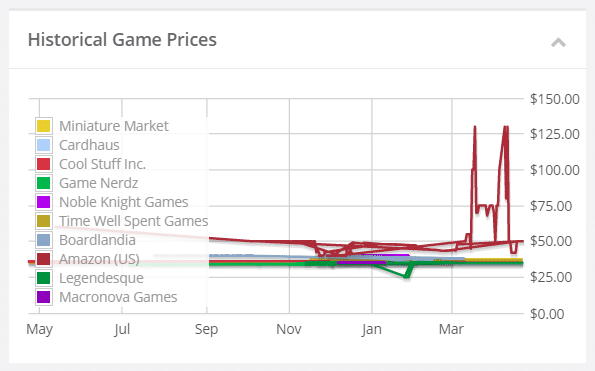 Board Game Atlas
Board Game Atlas is the new kid on the block. It provides deal notifications on historic lows, custom price thresholds, and allows you to receive alerts when a price has fallen below a certain percent.

Other Deal Alert Sites
Wait for Big Sales
There are several big deal days throughout the year in board game world, and if you wait for one of these days for a good sale, you can do very well.
Trade Games for New Ones
Instead of purchasing new games, consider getting rid of some of the old ones you don't play any more or don't want.
Do help you determine which of your games fail to spark joy, check out our free board game trading tool BGGTidy.
It utilizes Marie Kondo's method for tidying up to help you parse through your board game collection on BoardGameGeek. Games that don't spark joy, will automatically be added to your BGG trade list.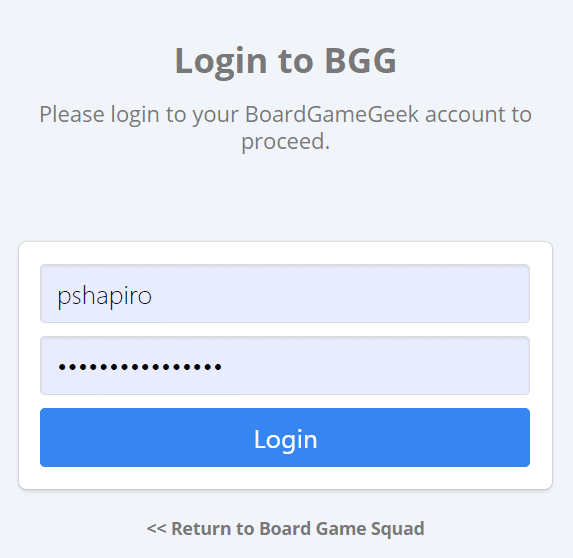 If you're interested in learning more about how to use the tool, you my read more here.
Once you've determined which games you'd like to trade, you can use the BGG Trade Tool to replace them with new games in your collection.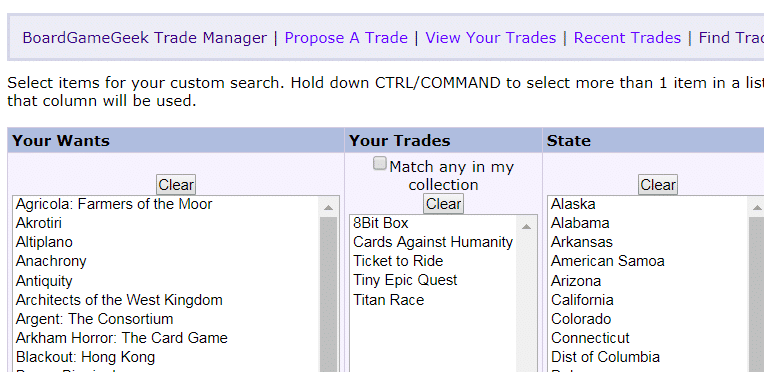 Math Trades
Math trades are a system of facilitating board game trades with a large group of people using an algorithm. You list games you'd like to trade and what you'd like in return and the system handles the rest. Sometimes, the algorithm trades several games in a chain in order to get you your preferred match.
To find a math trade, see the Math Trade Announcement Thread on BoardGameGeek.
Look for "no-ship math trades" for math trades that are facilitated locally or at a convention you may be attending in order to save money on shipping.
Board Game Apps
Although digital board games and apps are usually a bit cheaper than their card bard counterparts, they can still be a bit pricey. For instance when we wrote our app review for Castles of Burgundy, the price was $8.99 for iOS. Several of those will add up.
Instead of purchasing at full price, you can wait for sales.
If you have an iPhone, you can use the following IFTTT recipe for receiving price drop notifications:
Play Online
If you'd like to try before you buy, there are a lot of places to try board games online.
For the most variety, we recommend making the one time investment in Table Top Simulator on Steam. It's usually $20, but sometimes goes on sale for less.
There are also several websites that have a collection of digital implementations of board games. To name a few:
For a more comprehensive list, see this wiki page on reddit and the BGG page about where to play individual games online.
Print and Play (PnP) Board Games
There's a plethora of games released for free or at a discount if you wish to print and cut your own games. Sometimes these games are even available in advance of their retail release.
It takes some effort if you'd like your games to feel similar to a professional publisher's printing, but once you've got the supplies and have honed your technique a bit, it can be a big cost savings.
Recommended PnP Tutorials
Libraries and Friends' Games
Friends
Repeat after me, "I do not have to own games in order to play them". Board games are by their nature a group activity (unless you're exclusively a solo gamer) and we play them with our friend.
If you play games frequently with a group of people, it's okay if they own the game and you don't. They may even let you borrow their copy for another group.
Libraries
Some of us are fortunate to live in areas with a great library system. More and more libraries are adding board game lending.
In fact, my local library has one. It's a small collection, but it's full of gems like Great Western Trail and Terra Mystica.
If you're library doesn't lend board games, consider starting one and spreading your love of the hobby with others in your community.
Giveaways
Lastly, you can save money by winning games instead of buying them. Reviewers and publishers are frequently giving games away on social media.
If you enter enough of such giveaways, the odds are you will win one eventually. I personally have won several.
There's even an excellent Facebook group dedicated to giveaways.
Conclusion
Although the board game hobby is an expensive one, there are many ways to save money if you're resourceful. I hope your next board game purchase is just a little bit cheaper. Happy gaming!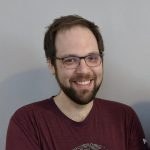 Paul Shapiro is Founder and Editor of Board Game Squad. He enjoys all types of games and experiences, but has a particular penchant for medium to heavy eurogames.