What if you could express your inner-most feelings with only a small bundle of exquisite flowers?
That's the world of Tussie Mussie, a Victorian fad that combined various flowers together to form a message, each communicating a unique meaning. Complex emotions such as love, lust, devotion, and resentment are distilled into micro-bouquets and given to friends and loved ones.
Following suit of this theme, Elizabeth Hargrave, the designer who also brought you the hit game Wingspan, has distilled something complex and beautiful into a lovely microgame published by Button Shy Games.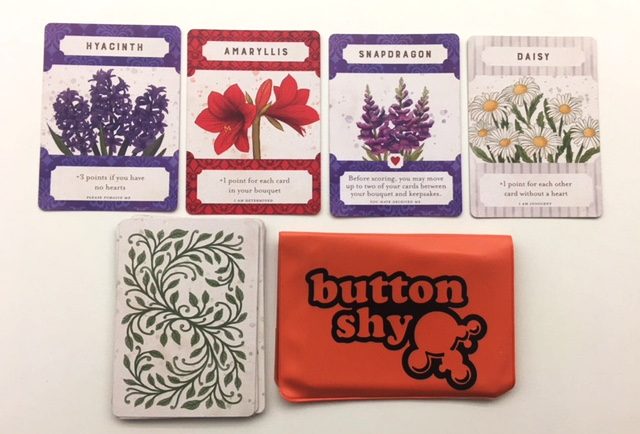 Tussie Mussie
2-4 Players
30 Minutes (~15-minutes for two players)
Ages 8+
Note: a separate solo expansion entitled Tussie Mussie: Flower Shoppe designed by Mike Mullins will be included in the Kickstarter
How to Play
A game of Tussie Mussie begins by shuffling the 18-card deck and placing it face-down in an accessible location for all of the players.
The start player draws two-cards from the center deck, looks at them, and decides one card to play face-up and one to play face-down. Both of these cards are then offered up to one of the other players.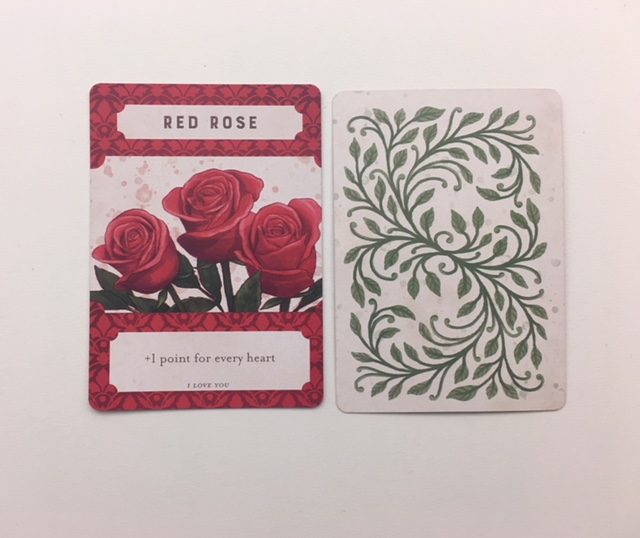 The opponent will then choose one card to keep for herself. The remaining card is given to the player who initially offered-up the two cards to the opponent. This is the variation on the I-Split-You-Choose mechanic in Tussie Mussie. Hargrave has dubbed it "I-Divide-You-Choose".
All face-up cards (referred to as your bouquet) will remain face-up and all face-down cards (referred to as your keepsakes) must remain face-down. However, once the face-down cards is in a player's possession, she is permitted to look at it, keeping the identity of that card hidden to the other players. All cards also must remain in their original positions within your tableau. This is important because some cards will scored based on their adjacency.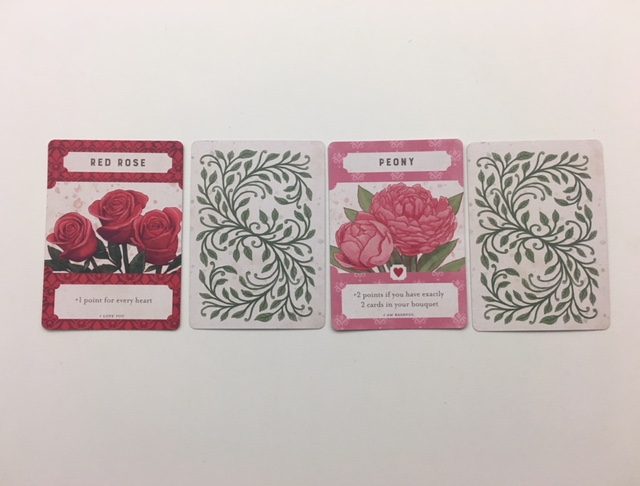 In a 2-player game, flower cards are offered to the other player, with this process alternating between players until both have four flower cards in their possession.
In a 3 or 4-player game, the flower cards are offered to the player on the left. This continues with the next player making doing the same, making a card offer to the player on her left, until all players have done so. At this point everyone will have two flower cards. The process will then repeat, instead passing flower cards to the players to their right and ending once everyone has four flower cards.
With everyone in possession of four flower cards, it is the end of the round, and players must score their tussie-mussies.
Scoring
The first step of scoring is to separate your face-up bouquet cards from your face-down keepsake cards. In order to distinguish between the two types, face-down cards are slid down before being flipped.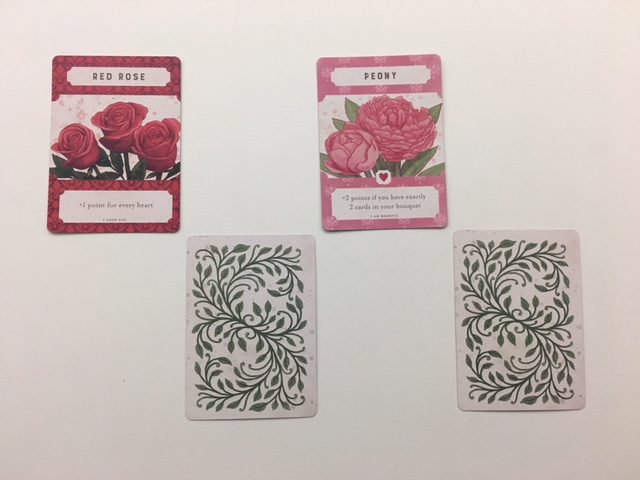 Scoring then occurs, adding the point on your cards from left-to-right. Each heart depicted on a flower cards is worth one point. Most cards will also have special powers that will earn you points. Although, some also work to your detriment.
If a card mentions adjacency, note that despite the temporary separation during scoring, bouquet and keepsake cards are still adjacent to one another. There is only one row of cards in reality.
Let's go through an example.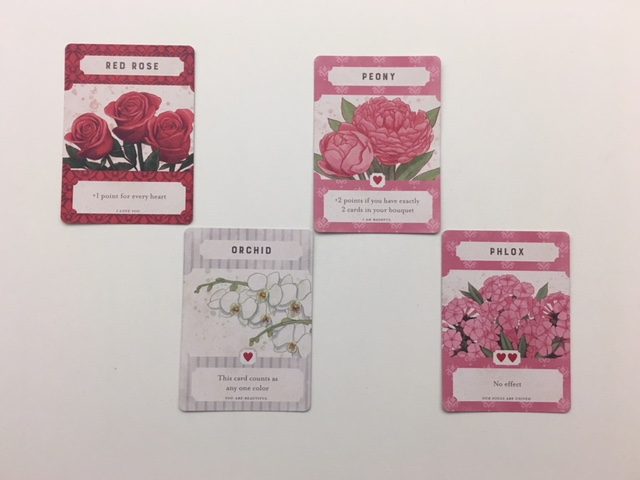 The RED ROSE doesn't have any hearts but says that you earn "+1 point for every heart". There are four-hearts in my tableau, so the RED ROSE earns 4-points.
Next, let's score the ORCHID. The ORCHID has a heart on it, so it's automatically worth an additional point. The special power notes that "this card counts as any other color". Since none of the cards in my tableau depend upon color to score, it will not earn us any additional points. It is worth a total of 1-point.
The PEONY has a heart on it. It is worth at least 1-point. It's special power is "+2 points if you have exactly 2 cards in your bouquet". I only have two-face up cards, forming my bouquet, so it is worth an additional 2-points. The PEONY is worth a total of 3-points.
Lastly, the PHLOX has two hearts on it, but no special power. It is worth a total of 2-points.
My tussie-mussie arrangement is worth a grand total of 10-points this round.
Everyone's cards are then re-shuffled into the center deck and the whole process of drawing two-cards and offering to the other players begins again.
There are three total rounds, with each player summing their scores from all three rounds together. The player with the most points in the end is the winner.
Design and Components
Tussie Mussie is your typical Button Shy Games wallet game. It comes in a nylon bi-fold wallet and consists of a mere 18-cards (as it was the product of the #GenCant2018 design challenge).
The art on each flower card is absolutely gorgeous. Beth Sobel did a fabulous job capturing the flowers' beauty in her illustrations. They're also paired with equally stunning background patterns that really allows the flowers to pop. The typography is fitting and legible. Overall, these are some really nice cards!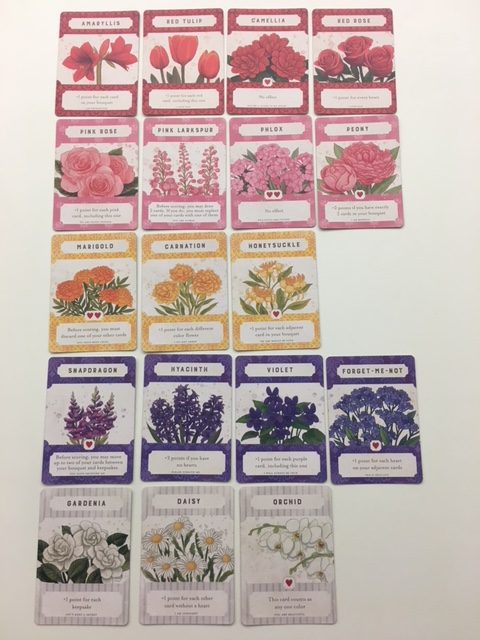 I also particularly enjoy the flavor text on the cards. Elizabeth Hargrave actually mentions in her original rules that it's recommended to read the text of the face-up card aloud. I think it adds some thematic flare to the game and enjoy doing so.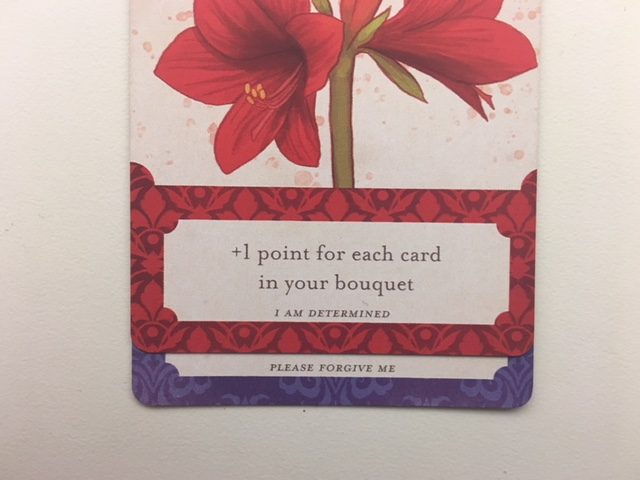 "Our souls are united"
"I love you"
"You are beautiful"
"I will always be true"
Thoughts and Conclusions
I really enjoy Tussie Mussie. It's a solid filler game. I pulled it out during multiple game nights to be played between some heavy eurogames and everyone had a blast each and every time.
In terms of both play and form, Tussie Mussie is New York Slice/Piece o' Cake meets Love Letter. People who enjoy these games will find joy in the language of flowers. Elizabeth Hargrave has another hit on her hands.
There's a good level of player interaction in Tussie Mussie. Each turn is a conversation with your opponent. Does this flower match the cards I already have? What card does my opponent want? What's hidden behind that face-down card? Is it worth the risk?
Pros
Small size—like others from Button Shy Games, it fits in my pocket. As I'm writing this, my wife in pregnant with twins and we've discussed adding the game to our hospital bag. The size and game-length make it in ideal grab-and-go game.
High player interaction
Beautiful art
Neutrals
Tussie Mussie plays slightly better at 3- and 4-players than at two. More information is available to you at higher player counts, making deduction a more viable strategy. That being said, 2-player games are still fantastic experiences and highly recommended.
Cons
None. If you're looking for a light, filler game, Tussie Mussie is a solid choice.
Tussie Mussie is currently on Kickstarter from Button Shy Games:
Check out the Tussie Mussie Kickstarter Campaign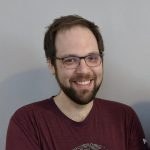 Paul Shapiro is Founder and Editor of Board Game Squad. He enjoys all types of games and experiences, but has a particular penchant for medium to heavy eurogames.