Adam and Paul are back with Episode 4 of the Board Game Squad Podcast. There's a lot to talk about and catch up on – starting with a giveaway! The boys talk about what kind of intentions players go into games with, as well a deep retrospective of the classic The Castles of Burgundy. Along the way, they will go over games they have recently been playing, some board game industry news, upcoming releases, Kickstarter projects to keep an eye on, and more.
Giveaway: Cartographers: A Roll Player Tale 0:01 
Welcome back: 2:20 
What we have been playing recently: 
Maracaibo 7:53 
Great Western Trail 10:05 
Trismegistus 13:24 
Quirky Circuits 16:38 
Kings Dilemma 19:47 
Squire for hire 23:11 
Seasons of Rice 25:40 
Forest of Tataraba 26:52 
Trails of Tucana 29:13 
Calimala 30:12 
Rockwell 33:19 
News 37:05 
Kickstarter 49:45 
Castles of Burgundy 53:43 
Be sure to visit us at https://boardgamesquad.com/podcast/. Email us at podcast@boardgamesquad.com! We want to hear from you. Ask us questions, let us know what we got wrong, and let us know what you have been playing lately so we can look into and review your favorite games as well!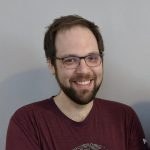 Paul Shapiro is Founder and Editor of Board Game Squad. He enjoys all types of games and experiences, but has a particular penchant for medium to heavy eurogames.