Want to talk about one of the most exciting games of 2019? Adam and Paul walk you through Maracaibo's different strategies, eccentricities, mechanisms, and ways you can successfully navigate the rules and gameplay.
Gaming accessories: 3:01
News/Kickstarter 13:44
What we have been playing recently 26:56
Xenon Profiteer 28:29
Quirky Circuits 31:24
Viticulture 32:43
Nyet! 34:53
Terramara 38:01
Blood on the Clocktower 41:50
Atelier: The Painters Studio 44:03
Spirit Island 45:54
Main Review:
Maracaibo 49:50
Be sure to visit us at https://boardgamesquad.com/podcast. Email us at podcast@boardgamesquad.com! We want to hear from you. Ask us questions, let us know what we got wrong, and let us know what you have been playing lately so we can look into and review your favorite games as well!
~
From around the blog:
See our list of the best two player board games.
See our list of the best board games of all time.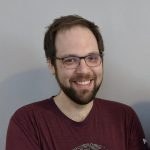 Paul Shapiro is Founder and Editor of Board Game Squad. He enjoys all types of games and experiences, but has a particular penchant for medium to heavy eurogames.