On this episode of the Board Game Squad Podcast, Paul interviews our special guest – game designer David Turczi. Listen in to hear about upcoming titles, David's process for designing and a ton of info on how he collaborates with other designers. Related: See our reviews of
Tawantinsuyu
,
Rome & Roll
,
Perseverance: Castaway Chronicles
, and
Anachrony
. Be sure to visit us at
https://boardgamesquad.com/podcast/
. Email us at podcast@boardgamesquad.com! We want to hear from you. Ask us questions, let us know what we got wrong, and let us know what you have been playing lately so we can look into and review your favorite games as well! ~ From around the blog: See our list of the best
two-player board games
. See our list of the
best board games of all time
.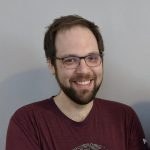 Paul Shapiro is Founder and Editor of Board Game Squad. He enjoys all types of games and experiences, but has a particular penchant for medium to heavy eurogames.